HomeTemple of Athene Lodge No. 9541
Research Lodge of the Province of Middlesex
Wednesday, 11th June 2014 at 5.00 p.m.
81st Regular and 20th Installation meeting.
Inaugural Paper by
W. Bro. Seth Belson, LGR
Freemasonry and the Vichy Regime in France,
1940-1944.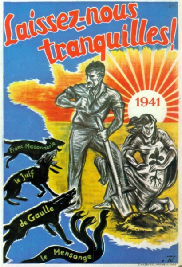 The lecture will be accompanied by the screening of a unique film from the period.
Harrow District Masonic Centre, Northwick Circle, Kenton,
Harrow, Middlesex, HA3 0EL.
All applications to the Secretary
W.Bro. Ron Selby, PPrGReg, SLGR,
2 Ashley Close, Welwyn Garden City, Herts., AL8 7LH
 01707 338425
Requests to dine must be accompanied by prepayment
of £25.00 per person at least one week before the meeting.
Please include your email address so that a Summons and Menu can be sent.